Stable Value® investment options generally refer to a relatively low-risk fixed income asset class available only in tax-qualified retirement savings plans such as 401(k), 403(b) and governmental 457(b) plans. At Nationwide, our Stable Value product suite includes general account and separate account group fixed annuity contracts and a collective investment trust (CIT).
Stable Value investment options provide plan participants the opportunity to invest in a vehicle designed to provide capital preservation and steady, positive returns.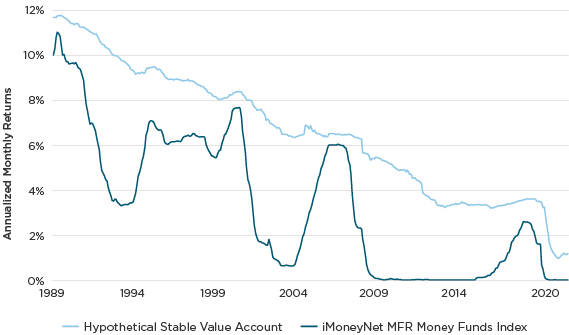 As the chart shows, over a long period of time, Stable Value returns have consistently exceeded money market returns.
The "Hypothetical Stable Value Account" crediting reset rates are calculated according to a standard stable value industry crediting rate reset formula by Invesco Advisers Inc. using an internal proprietary system.
Source: "Stable Value at a Glance," Stable Value Investment Association (December 2021). Past performance is not a guarantee of future results.
Find the right balance of investment return and stability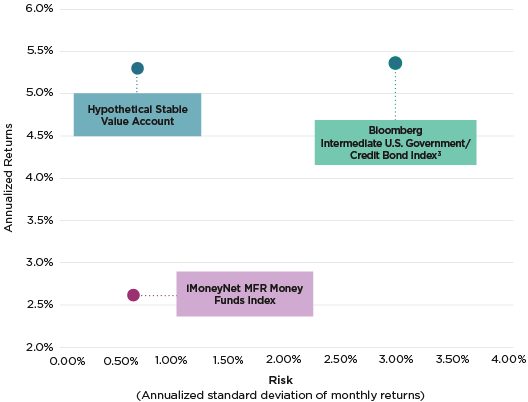 Of course, there can be no guarantees of future success when discussing investing, but for more than 30 years,1 Stable Value investments have tended to deliver returns on par with intermediate bonds while carrying risk that's closer to that of money market funds.2
Our investments team makes the difference
Our portfolio management team consists of seasoned investment professionals with an average of 24 years of experience.
You can depend on the professional experience of our investments team for retirement plan solutions designed to help meet the needs of your plan and its participants.
As stewards of more than $130.8 billion in assets under management,6 Nationwide offers proven success at designing investment strategies that help meet the needs of the retirement plans we serve.
In total, more than 200 tenured investment professionals bring you.
Deep market knowledge
Multiple asset class capabilities
Broad experience through market and business cycles
Our investments team employs a disciplined, research-driven approach, supported by a robust risk management framework, to provide diversification and risk-adjusted returns.
Guiding principles and portfolio management philosophy
Our view is that combining both top-down and bottom-up disciplines provides the most reliable opportunity for higher returns.
Within the top-down strategy, we strive to understand the broader markets' macro landscape through independent research, which provides the baseline for outsizing investment returns by driving our sector weighting strategies.
We believe that forecasting the expected direction and behavior of risk assets through various cycles is the key to providing effective investment strategies for clients.
[1] From Dec. 31, 1988, through Sept. 30, 2021.
[2] "Stable Value at a Glance," Stable Value Investment Association (December 2021). Past performance is not a guarantee of future results.
[3] The Bloomberg Intermediate U.S. Government/Credit Bond Index is a broad-based benchmark that measures the nonsecuritized component of the U.S. Aggregate Index with less than 10 years to maturity. The index includes investment-grade, U.S. dollar-denominated, fixed-rate Treasurys and government-related and corporate securities.
[4] All products can be paired with Nationwide Retirement Flexible Advantage®. All require special approval for defined benefit.
[5] All products can be paired with Nationwide Retirement Flexible Advantage®. Liquidity terms vary for 403(b) plan types.
[6] As of December 31, 2021, this includes all general account assets and the assets of Nationwide Asset Management.
This information is general in nature and is not intended to be tax, legal, accounting or other professional advice. The information provided is based on current laws, which are subject to change at any time, and has not been endorsed by any government agency.
This material is not a recommendation to buy or sell a financial product or to adopt an investment strategy. Investors should discuss their specific situation with their financial professional.
Investing involves market risk, including possible loss of principal. No investment strategy or program can guarantee to make a profit or avoid loss. Actual results will vary depending on your investment and market experience.
The unregistered group variable and fixed annuities are issued by Nationwide Life Insurance Company, Columbus, Ohio. Guarantees are backed by the claims-paying ability of the issuing insurance company.
Nationwide Funds are distributed by Nationwide Fund Disturbers LLC (NFD), member FINRA, Columbus, Ohio. Nationwide Investment Services Corporation, member FINRA, Columbus, Ohio.
Nationwide Fixed Select Contract, Nationwide Stable Value and Nationwide Retirement Flexible Advantage are service marks of Nationwide Mutual Insurance Company. The Best of America is a service mark of Nationwide Life Insurance Company. © 2023 Nationwide